Would you like to support your association/club as a coach or trainer? At best with help and tips directly on location? Then use the new LSV service: TRAINING on tour!
What is TRAINING on tour?
Based on the model of LSV association services, associations and clubs have a small van available to them, which is equipped with the latest sport and fitness equipment. A qualified training team from the  State Sport Association drives through Schleswig-Holstein throughout the year, providing individual training to competitive athletes, coaches and trainers, on location and tailored to their needs.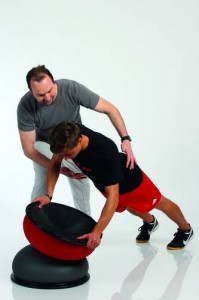 What content is offered?
Torso stabilisation, coordination training, sensorimotor function, control training and proprioception are all terms which have found their way into competitive and popular sports in recent years.  Unstable support surfaces play an important role in these areas. Training methods to keep the body fit and also increase performance now have innovative new products.  Our offers show options for sensorimotor  training and also for functional strengthening. In addition, TRAINING on tour also offers balanced athletic training for talented athletes and their trainers.
Associations and clubs in the LSV can book this service (including advisor) for time periods of 2 to 4 hours, free of charge. Enquiries can be sent to the Training department.
bildungswerk@lsv-sh.de or 04523 – 98 44 30