Air-filled equipment, which is individually adjustable with a pump, offers a dynamic underlay and is thus perfect for more stability and coordination.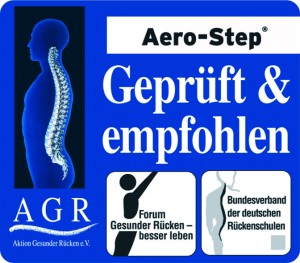 The "Bundesverband der deutschen Rückenschulen e.V. " (Federal Association of German Back Pain Prevention) and the "Forum Gesunder Rücken – besser leben e.V." (Forum of Healthy Backs – live better)  has already awarded 22 TOGU products the AGR seal. Amongst other things for the Aero-Step:
the air filling and special material makes the TOGU products easy to transport, very durable and easy to care for. They can be used to do exercises just about anywhere, without needing much space. A balancing cushion, such as the Aero-Step XL (video) continually offers new training possibilities for advanced users and professionals thanks to its versatility.
The two separated air chambers allow targeted training of both sides of the body. The training is more intense and reaches deeper. It gives the "small" muscles, which stabilise the joints, new unfamiliar stimuli.
New in the range is the Aero-Step Pro: it is more dynamic, bigger and more versatile.
One side has nubs, the other doesn't. This means that the Aero Step Pro can be used on both sides – 2 in 1.
On 15.03.13, AGR organised the Day of Healthy Backs.
All over Germany, stakeholders in the health industry (doctors, therapists, chemists, health care supply stores etc.) used the Day of Healthy Backs to inform the public about ways to improve back health. The offers were extremely varied, for example there were presentations, open days at medical practices, a special exhibition, an introduction course and much more.