Many interesting discussions with dealers, and sports and fitness enthusiasts from more than 100 countries once again made FIBO, the leading international trade fair for fitness, wellness & health, which was held from April 11th to 14th, 2013, one of the most important events of the year.
There were a total of 96,700 trade fair visitors, a growth of almost 30 percent compared to the previous year. On Saturday alone there were more than 45,000 visitors, an almost 50 percent increase in direct comparison to the same day last year. 670 companies from 30 countries were represented on a total area of 100,000 m².
Some highlights of the trade fair were new products in the Balanza® range, such as the Balanza Ballstep® and the Balanza® Physiowippe for the areas of physiotherapy and rehabilitation – ideal for starting out sensomotoric training. For more advanced users, who want to design more  intensive and challenging workouts, the Balanza® Freeride was presented.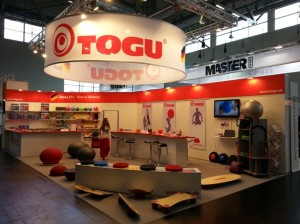 Also presented as new products at the trade fair were the Dynaswing® and Dynanza® Surf, the Jumper® Pro and the Blackroll in new sizes and shapes. More information about the brand new products and the "Jumper Pro Re-Fit" will be  coming to our homepage soon.
One day before the start of the trade fair, on April 10th, 2013, was TOGU Day, and for the 4th time in a row we invited speakers, presenters, disseminators and cooperation partners to presentations and workshops. 180 people visited our event and made the 4th TOGU Day  a unique event.
Speakers, such as Prof. Dr. Klaus Bös, Hape Meier, Gunda Slomka and Stephan Müller talked about interesting topics in the fields of health, fitness and sport, especially about functional training, and its application possibilities and areas. The differentiation of training loads, as well as effectiveness of strengthening was also covered and elaborated on in diverse and sometimes sweat-inducing workshops.
There were many different TOGU products available to the participants.
A highlight of the day was the cool action-packed Jumper show by Michael dela Cruz and his TJ training system team from FiMa.